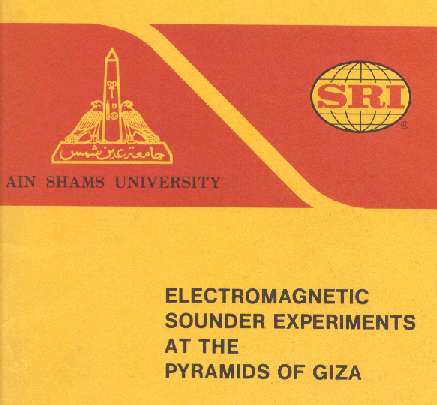 A Joint Egyptian-American research team conducted electromagnetic sounder experiments during autumn 1974 with the primary objective of locating archaeologically significant chambers in the Giza area. Radio-frequency losses in the limestone rock of the area, ranging from 6 dB/m at 10 MHz to 25 dB/m at 150 MHz, appear to preclude much practical application of radio-frequency sounding in the vicinity of Giza. The high losses are contrary to expectations based on samples analyzed before the Giza experiments, but are consistent with later laboratory analyses made at the high temperature and high humidity characteristic of the Giza environment.
Exploration of the pyramids in conjunction with the experiments yielded two additional discoveries of interest. A number of quarry marks and what appear to be alignment markings which may have been used during pyramid construction were located in the excavation on the north side of Mycerinus' pyramid.

Observation of construction practices made visible by the digging efforts in various forced entrances disclose a much more common use of irregular blocks and debris fill, particularly in Chephren's and Mycerinus' pyramids, than is commonly appreciated. These construction practices may have a significant bearing on the design of future sounding experiments.